A "jacket and bow tie" wine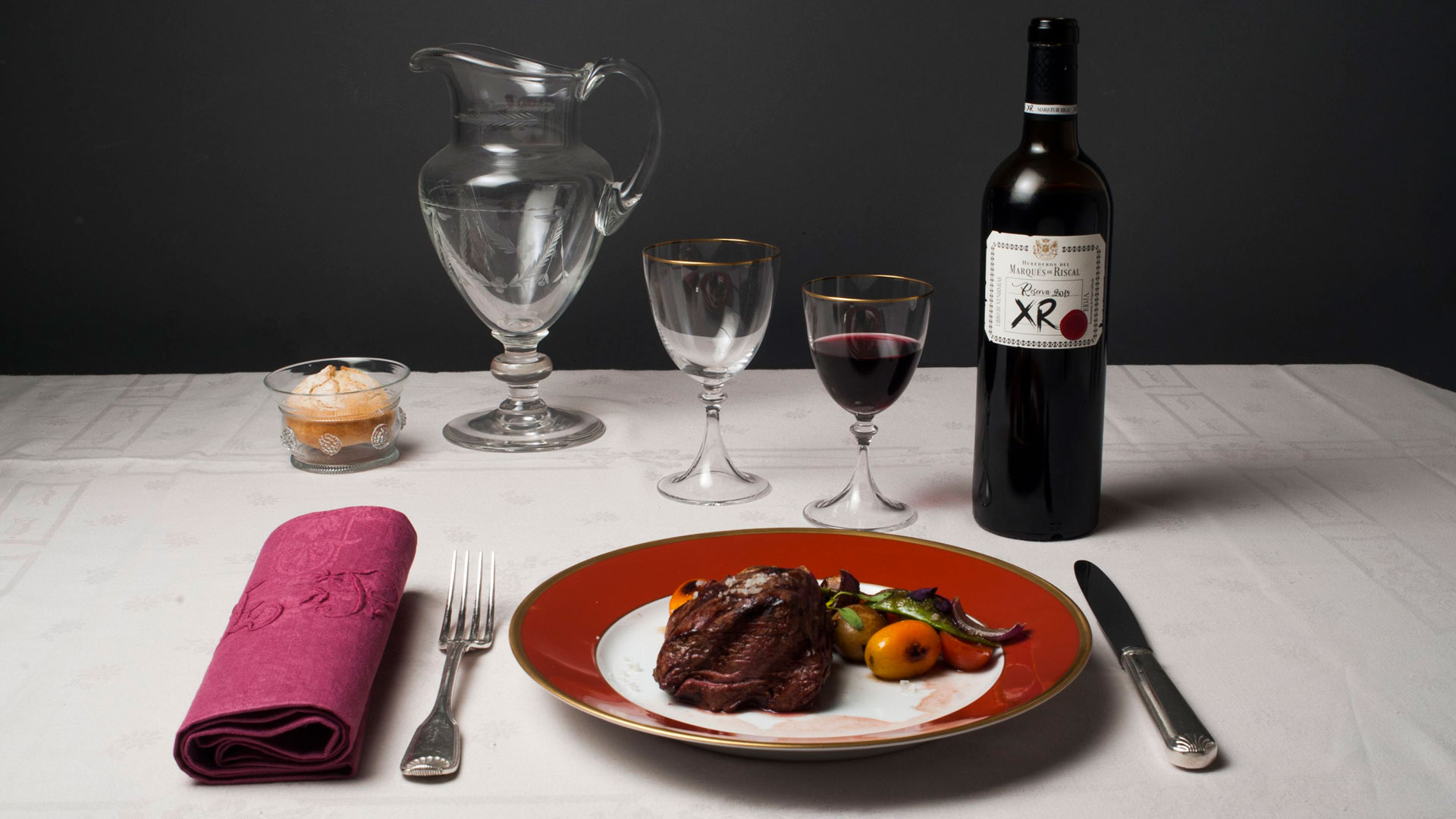 Text: Mª E. Alberti
Photo: Ana Busto
The history of this wine was still to be written and it is Marqués de Riscal who have rescued an ancient liturgy from the past, a ritual loaded with meaning and experience, the know-how of the master winemakers from almost two centuries ago (1869-1964).
What do these two enigmatic letters stand for?
Quite simply, Extra Reserva: that is what the winemakers chalked on the barrels which showed special characteristics. These winemaker's wines were never released for sale, but they served as a reference for the cellar master.
This 2015 XR Reserva pays tribute to all those who have contributed to forging the history of Spanish wine at Marqués de Riscal. Now let's talk about this 2015 XR Reserva, which the team uncorked and tasted after photographing the image in which you, dear reader, are going to discover it, in its setting, a 19th century Bourgeois-style table, silver, glass crystal and fine porcelain, and a perfectly grilled pink tenderloin of Uruguayan steer.
From the first sip, XR releases a hidden part of its personality, of its popular wisdom, a very expressive, persistent, timeless aftertaste of deep, structured, complex notes of ripe fruit, black pepper and cinnamon. The glasses reflected the vibrancy of its intense, saturated, cherry colour which through the fine glass breaks up into warm nuances, and sip after sip, your palate receives the message of charisma and gravitas which gives XR 2015 its legitimacy, its magnetism, its energy, which enhances and heightens the intensity of its flavours, meats, pulse stews, poultry… and of course, a jabugo ham with pedigree. We finish off the bottle and the photo. Great job!
This XR was an experience for all of us. A red wine with existential value, contemporary resonances and the makings of a leader. Sometimes, reader, our work is a privilege.