Spa Vinothérapie® Caudalie
Discover a universe of sensations.
SPA Vinothérapie® Caudalie Marqués de Riscal is a unique concept offered in an extraordinary setting. The prestigious cosmetics brand Caudalie, creators of the Vinothérapie® SPA concept, offers effective, natural treatments which contain the extraordinary properties of the vine and the grape. A unique moment of pleasure involving all the senses so as to enjoy a taste of paradise: unique aromas of precious oils, relaxing music and skilled hands to enable you to live an extraordinary experience.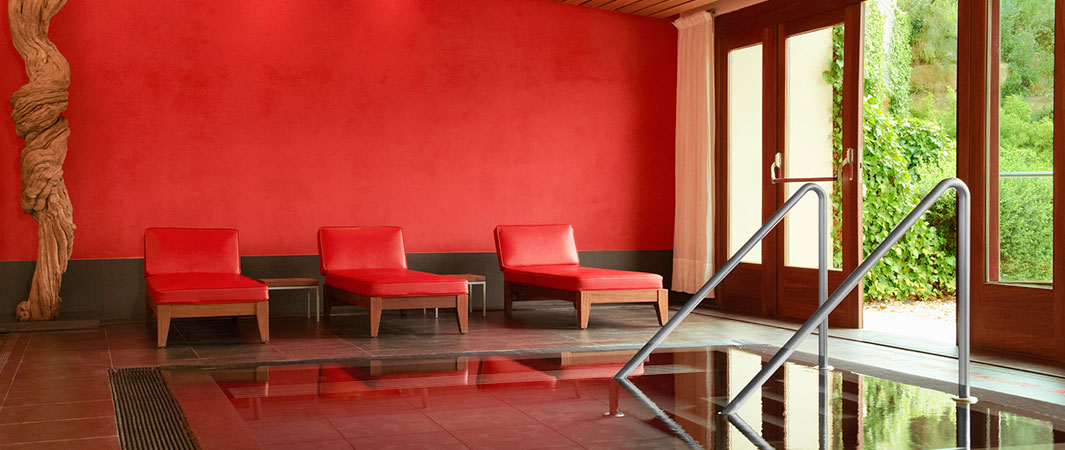 SPA Vinothérapie® Caudalie Marqués de Riscal has created a delightful and welcoming
atmosphere in a setting of cool stone and warm, filtered sunlight. The spacious treatment rooms
lined with cedar and teak offer serene, seductive settings for unique treatments such as the exclusive Crush Cabernet Scrub or the amazingly popular Caudalíe Grand Facial.
Breathe, relax, let us offer you a moment of magic, an amazing sense of wellbeing, welcome to Caudalie.
To complement the spa experience, we invite our guests to take advantage of the heated indoor pool, whirlpool bath, barrel tub, steam room, jacuzzi, gym and the traditional foot bath, the pediluvium. Let the expert hands of the vinotherapists work on you with their exceptional treatments using Caudalie products, whose extraordinary anti-ageing properties are recognised by doctors and surgeons all over the world. The spa offers complete rituals or half day sessions,
or health cures of from two to six days.
Opening hours for the spa facilities:
Wet Area and SPA Treatments
Sunday to Thursday from 10 am to 8 pm
Fridays and Saturdays from 10 am to 9 pm