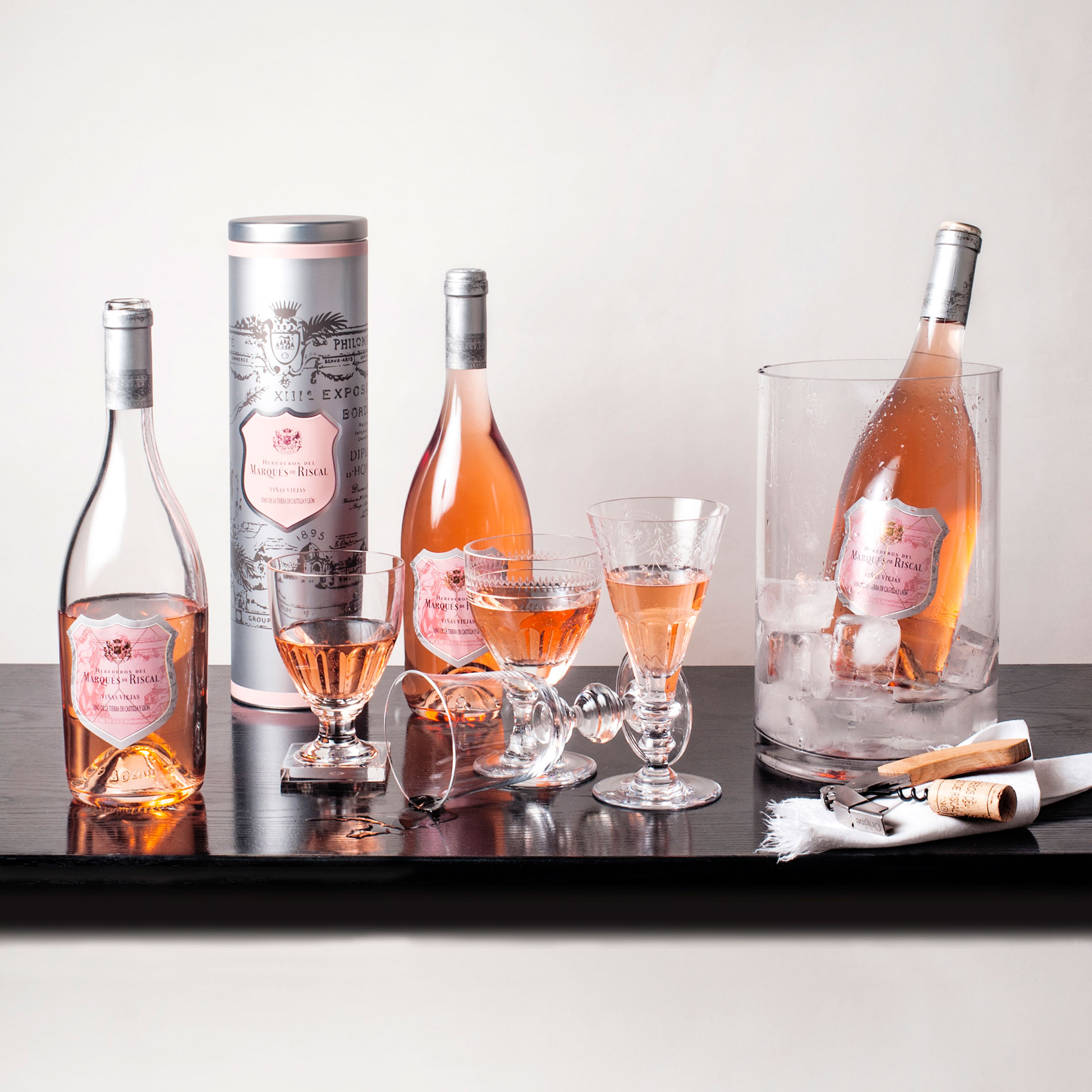 Text: Mª E. Alberti
Photo: Ana Busto
Because there are all kinds of rosados and a lot of them are rough, vulgar and with a stereotyped taste, caricatures of the great table wines like the one we invite you to taste today: Marqués de Riscal Viñas Viejas.
Winter will come soon enough, with its procession of great, profound, meaty, classic wines, velvety tannins which bring us these autumn dishes with stronger flavours, like game or the seasonal fish. Now, with the summer solstice upon us, the one we must all invite to the table, at least in these latitudes, is the rosado. And among these wines you can find some real gems.
A festival of aromas, transparent coral colours, or glints of raspberry like in this Viñas Viejas: an inimitable rosado for fine-dining which has earned its reputation bottle by bottle, because it has maintained intact the quality and originality of the bodegas whose name it bears. Like everything from this house, this wine is a whirlwind of freshness which adapts to the subtleties of contemporary summer dishes or the incomparable quality of our signature tapas, Iberian charcuterie, jabugo ham and premium shellfish. Beginning with the aromas, it leaves us with great aromatic persistence and, on the palate, a fruity, mineral and floral freshness.
The guardians of this know-how for future generations have recovered from the viticulture of their ancestors a respect for the soil, even more so given that these vines are a hundred years' old, and their impeccable winemaking process. The Garnacha (75%) and Tinta de Toro (25%) grapes, especially those of the 2017 harvest, an exceptional year, harvested from the terraces overlooking the Duero valley, have had four months ageing on fine lees from the Sauvignon Blanc variety. But what make sit exceptional is that it has been made and aged using the traditional bleeding method, that is, without the addition of colourants of any kind.
A glass of Viñas Viejas sums up all we have said: century-old vines, the energy and magnetism of the terroirs and the favourable weather conditions of the 2017 harvest. From the very first sip, you can tell there are no impostures, no filtering and no additives. This wine is he fruit of the intuition, know-how and hard work of sensitive men and grown according to the rules of the authentic. And above all, faithful to the spirit of Bodegas Marqués de Riscal and its noble mission: to perpetuate in each bottle their demand for quality, their distinction and their international prestige.
An anthem to excellence, rigueur and the ethos of its label. Just one word of warning: serve it at the ideal temperature (between 14º and 16º).
And why not try it for the first time this summer with fantastic seafood paella?